AAFX Trading is a well-known name in the trading industry. It was established back in 2010, which makes it one of the longest-lasting brokerages out there. It is based in St. Vincent and Grenadines and regulated by the territory's Financial Security Authority. It is important to note that this regulatory body should not be confused with the London based FSA, which is one of the most reputable bodies out there. St Vincent and Grenadines' FSA, on the other hand, specializes in regulating trading companies in the off-shore areas of this part of the world.

The company has also started to significantly grow in the past couple of years, so they have opened another headquarters in Hong Kong, China. This is quite surprising since trading is a controversial activity in this country. Still, when you type in the information about their origin, you will find this fact to be true. The company has also won an award for Best Asian Broker back in 2016, which is quite an astonishing accomplishment.
In addition, AAFX is one of the rare companies that are accepting clients from the US, which says a lot about its reliability. Namely, the US market is quite strict and competitive. And with the latest developments in the US President Donald Trump's politics, all trading activities seem to be under fire in this country. So, it is quite admirable that AAFX is able to follow through with the strict measures and keep above water. Let's see what else stands out about this broker company, so we can help you decide whether it would be smart to trade with them.
Platform and Execution SCORE: 75%
The very first thing we should note about AAFX Trading is that they report over 100.000 clients on a daily basis. This says quite a lot about this brand, but most importantly, about its trading platform. So, AAFX Trading provides you with several options when it comes to the type of trading platform. You can trade with both MT4 or MT5 platforms, as well as through the web or mobile device. They are obviously covering all their grounds, so the clients can have as much choice as possible.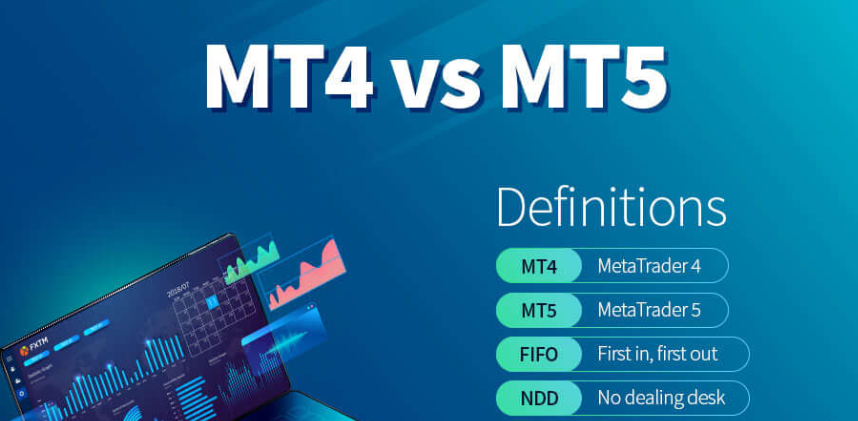 The trading platform offers you a wide selection of around 250 tradeable assets, including CFDs, currency pairs and commodities. The great thing about the platform is that you can choose between fixed and variable spreads. This is awesome news for the clients, considering that the majority of other platforms offer just one of these options. Here, however, you can choose between the two based on your trading psychology. Are you a risk-taker or do you take your time and like to play it safe? Either way, you can achieve your trading dreams here.
The leverage with which you can trade here is 2000:1 for all the account types, which is quite huge compared to the industry standard, which is 1:50. And as you can imagine, with such high leverage also comes much bigger risk while trading. However, the risk can't be avoided anywhere on the trading market, so you might as well get the best of it, right?

Speaking of different account types, you can choose between 3 of them for your trading journey. The first one is the Fixed Account, which gives you only a fixed spread for your trading. The second one is the ECN Account, which gives you the opportunity to choose a fixed or variable spread. Finally, there is the VIP Account, which gives you endless opportunities for trading at the platform.
Withdrawal Speed SCORE: 31%
What particularly stands out about this section of the platform is the fact that there are no fees or commissions for your deposit or withdrawal requests. That's right! No matter which amount you wish to take, you can do so without any strings attached. The minimum deposit that you are required to make if you wish to trade is only $100, which is quite generous.

The company also gives you one of the widest selections when it comes to payment options. From credit and debit cards to bank wire transfers and several of the most popular e-wallets, the choice is practically endless. However, the sketchy thing about this section is that the company takes its sweet time for processing these requests, which is why they've had many complaints from the clients over the years.
Support and Assistance SCORE: 45%
The customer support at AAFX is quite easy to reach through several channels, including live chat, email and phone number. Their agents are available 24 hours a day but only on working days, and not on the weekends. So, if you happen to require immediate assistance on a Saturday, you're out of luck. Luckily, the agents are reachable and quite friendly during their working hours. You can connect with them in just a few seconds, which is a huge relief.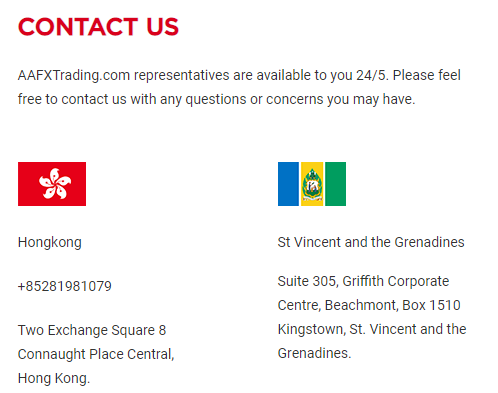 There is also the option of reaching out through their social media pages on Facebook, Twitter, LinkedIn or Youtube. Their community of traders is quite present here, so you may have some luck connecting here as well. The great thing about customer support is also the fact that you can contact them and talk with them by using over 10 languages in total.
Education and Tools SCORE: 91%
Lastly, the educational section of any trading company is quite an important feature to assess. This part shows dedicated to the company is to help its clients achieve greatness and become better traders as time passes. At AAFX Trading, you are regularly updated with the latest news and development on the trading market. They include a variety of information and articles about the political situation, health and even weather conditions that could be an important factor in your everyday trading.
There is also a sub-section called Educational Videos, where you can find a bunch of trading lessons in a form of video tutorials. They use a simple language and a lot of tools to explain trading, so we were pleasantly surprised to watch them.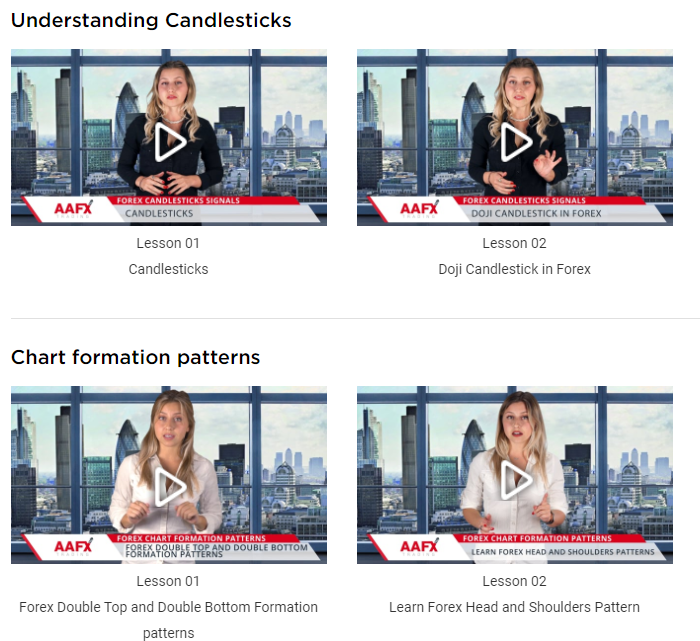 Overall, this section is quite fulfilling and rich with the necessary information that can truly help you while trading. It is clear that the company is trying quite hard to become your number one choice, despite hitting some snags along the way.